Food Packaging
Paper and cardboard are "breathable" materials, they allow you to maintain the freshness of food for a long time without deteriorating taste. Paper packaging is popular in fast food chains, when packing confectionery, frozen foods, and in the food industry.
Boxes for Healthy Generation Healthy Food Supplier: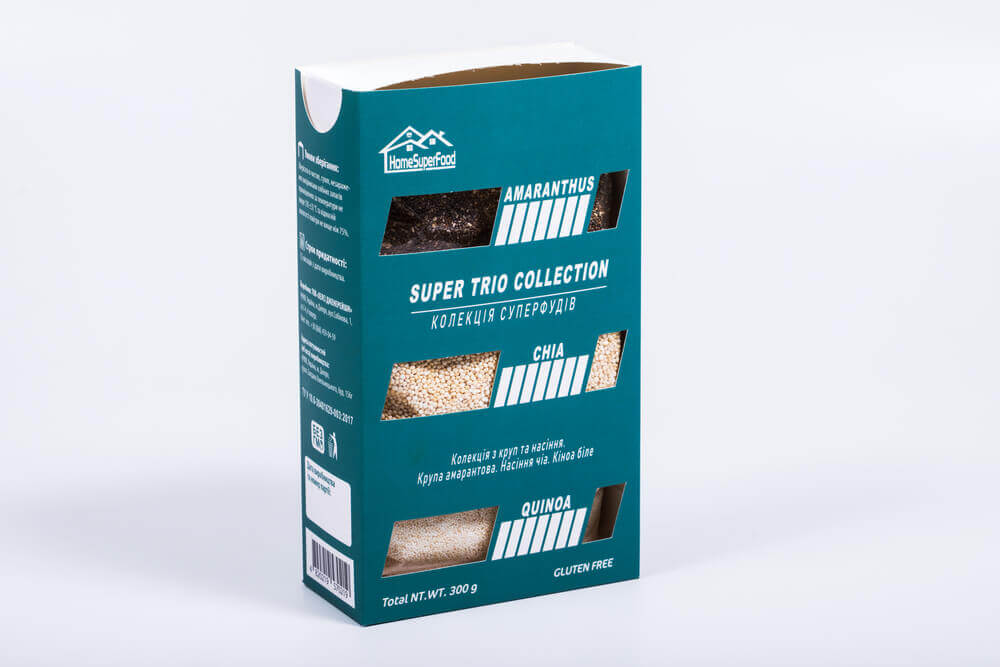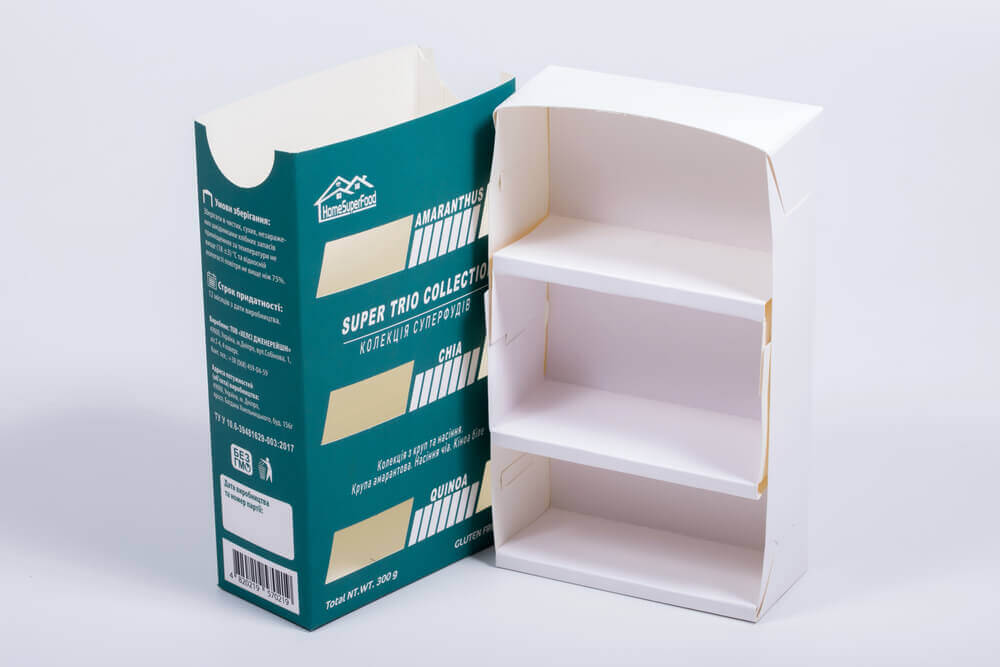 Box with a self-erecting insert with three sections for cereals and seeds. On cardboard full color printing, matte lamination, die-cutting windows are applied.
Box size: 195 x 115 x 53 mm.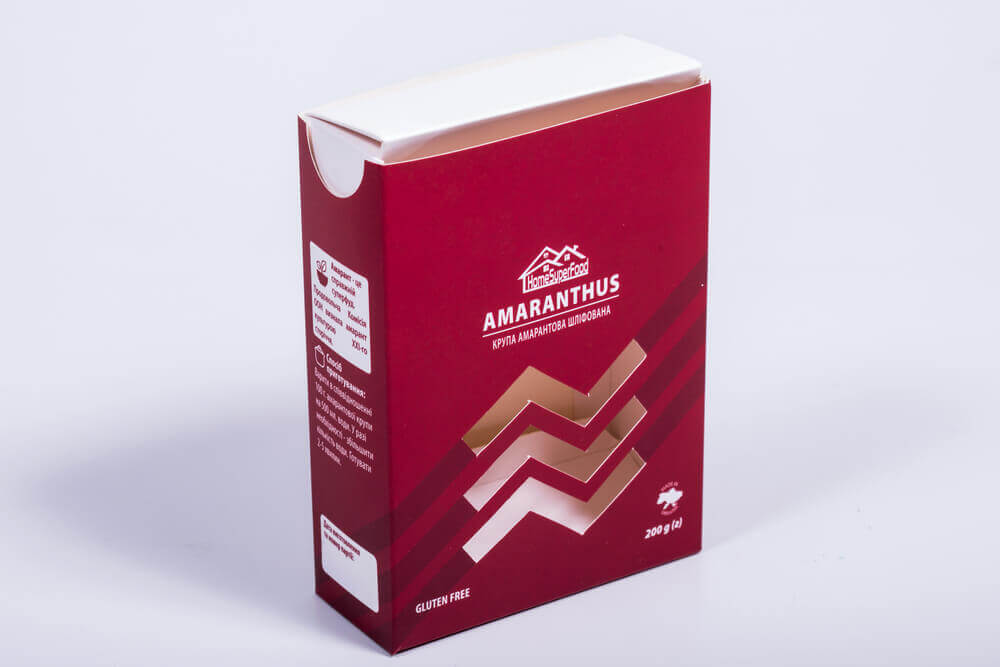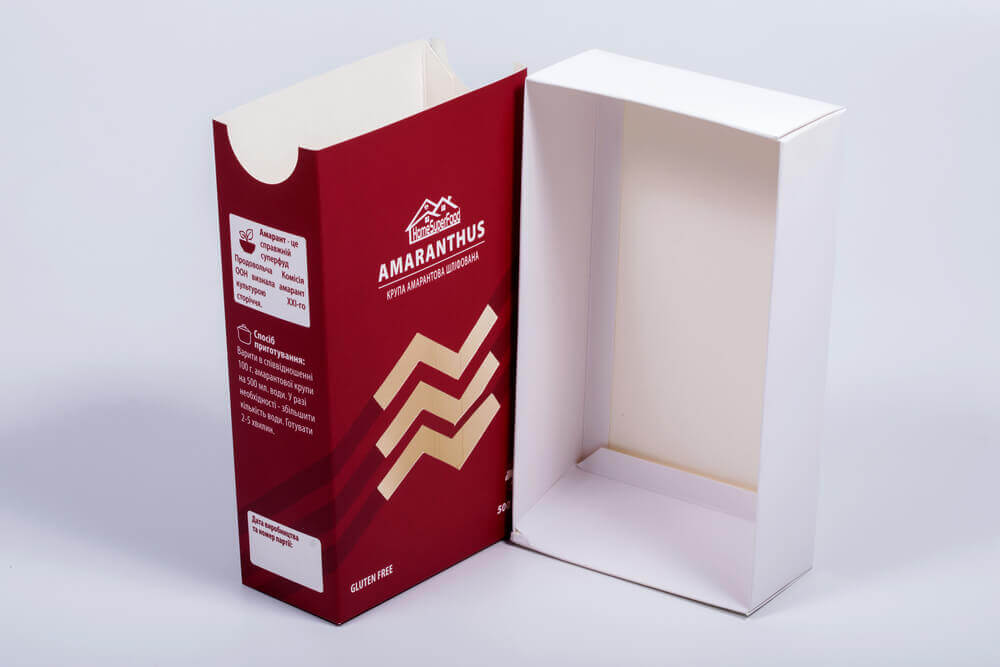 Box with self-erecting insert for cereal. On cardboard full color printing, matte lamination, die-cutting windows are applied.
Box size per 500 g: 195 x 115 x 53 mm.
200 g box size: 145 x 105 x 45 mm.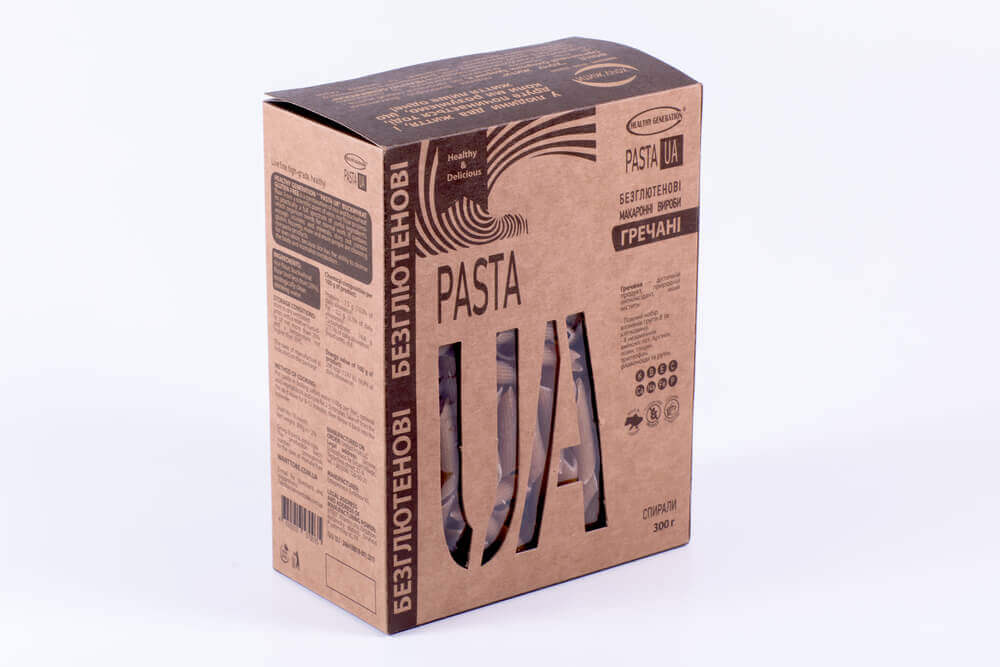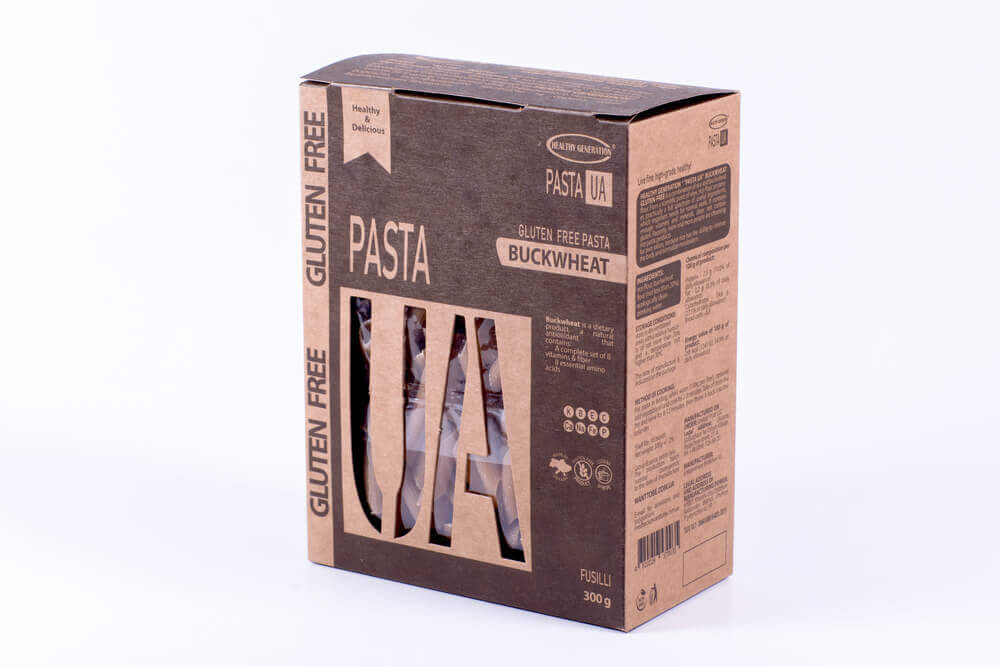 Boxes for pasta. Material - Kraft liner, full-color printing with UV inks, curly carving of windows.
Box size: 180 x 140 x 75 mm.
Pizza Boxes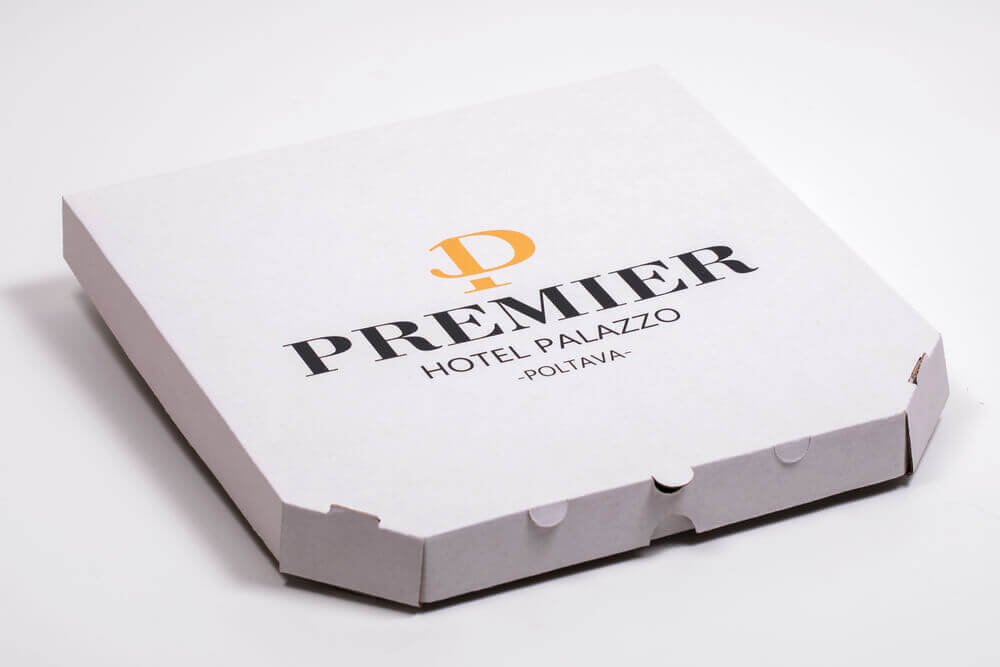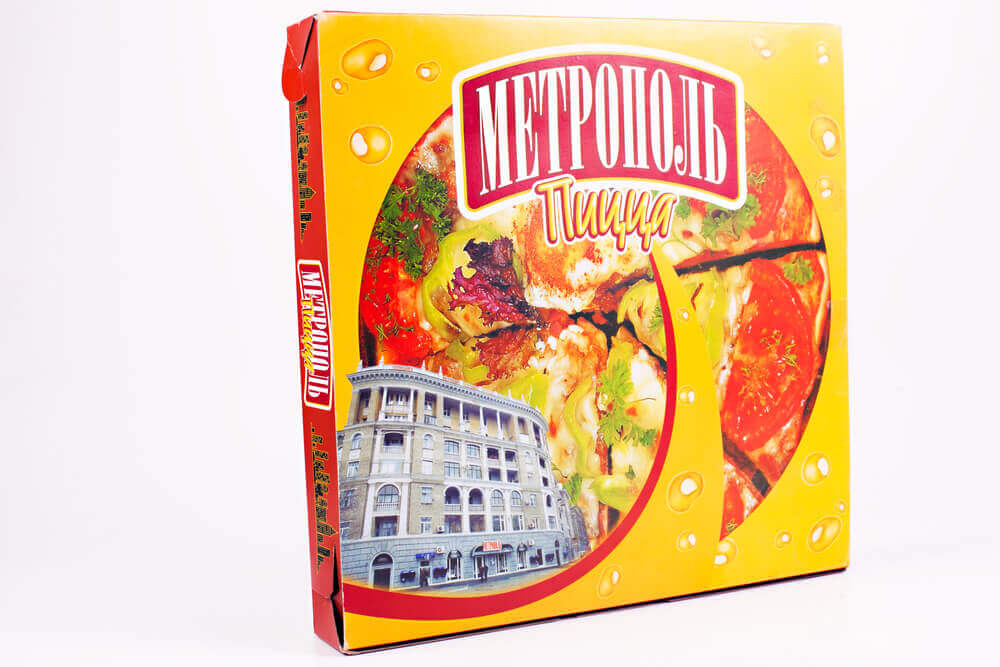 Pizza box with silk screen printing for Premier Hotel. Box size: 300 x 300 x 35 mm.
Box for Metropol pizza restaurant. Cardboard box with full color printing and glossy lamination. Box size: 270 x 270 x 40 mm.
Packaging for Medusha Honey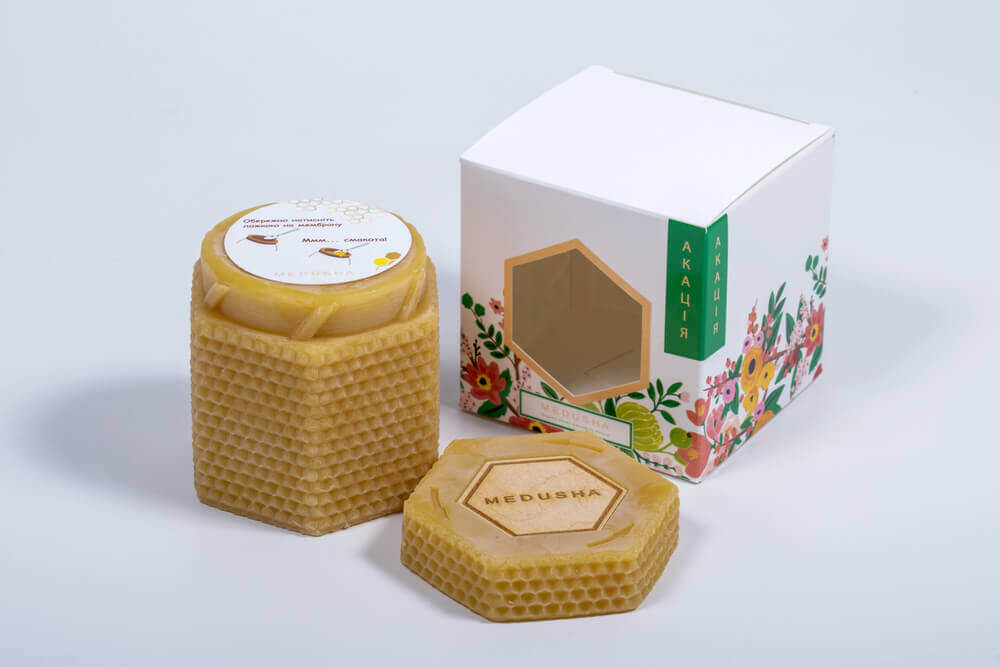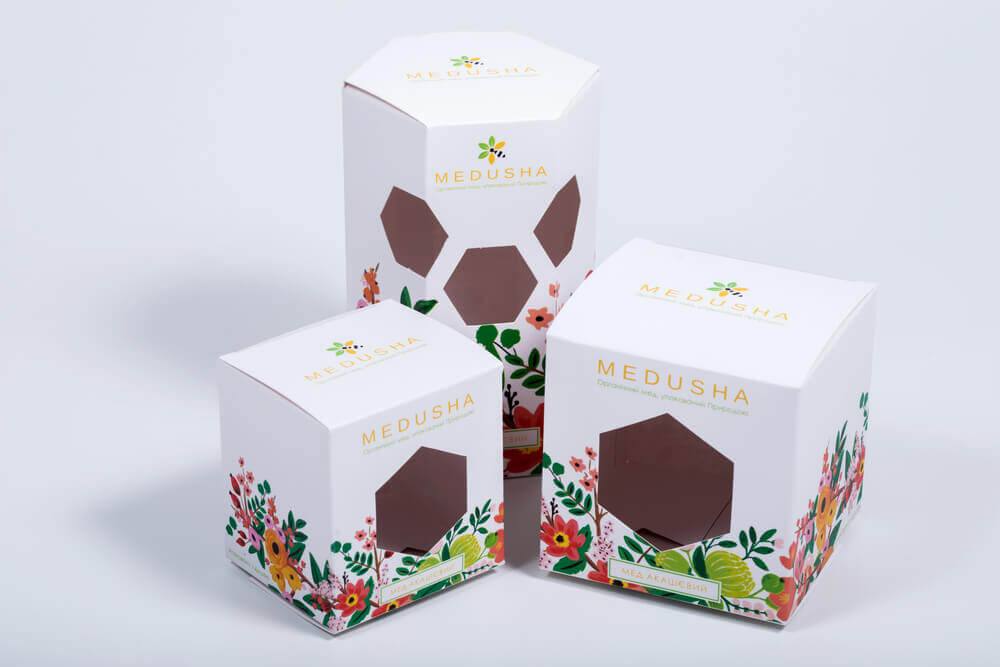 Full color printing, matte lamination, window cutting
Different sizes of boxes for the shape and size of wax jars of honey.
Cardboard Containers for Popcorn for Kino Tema Movie Theatres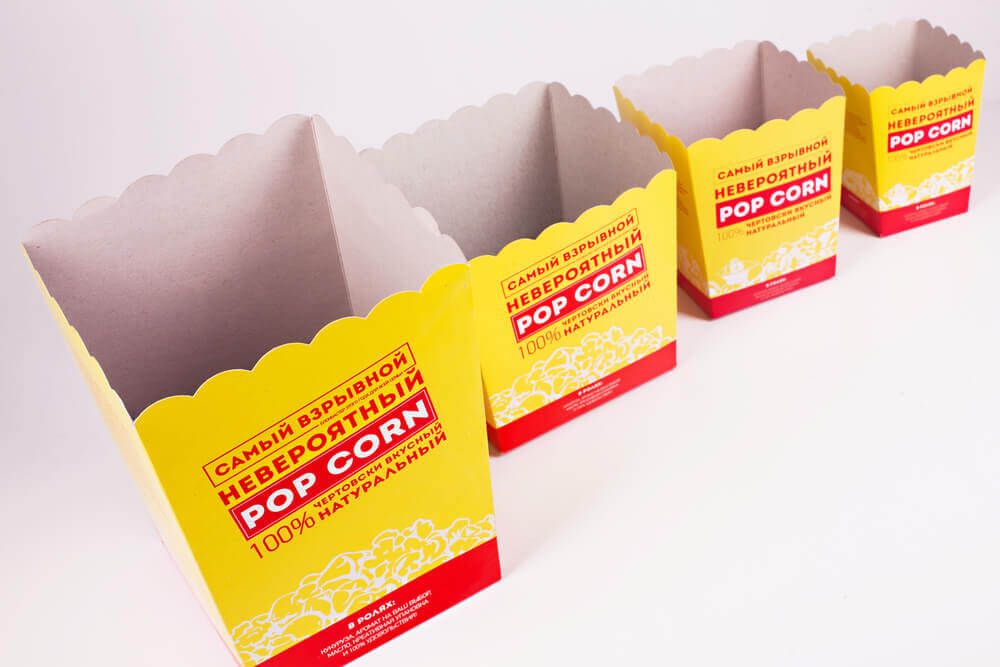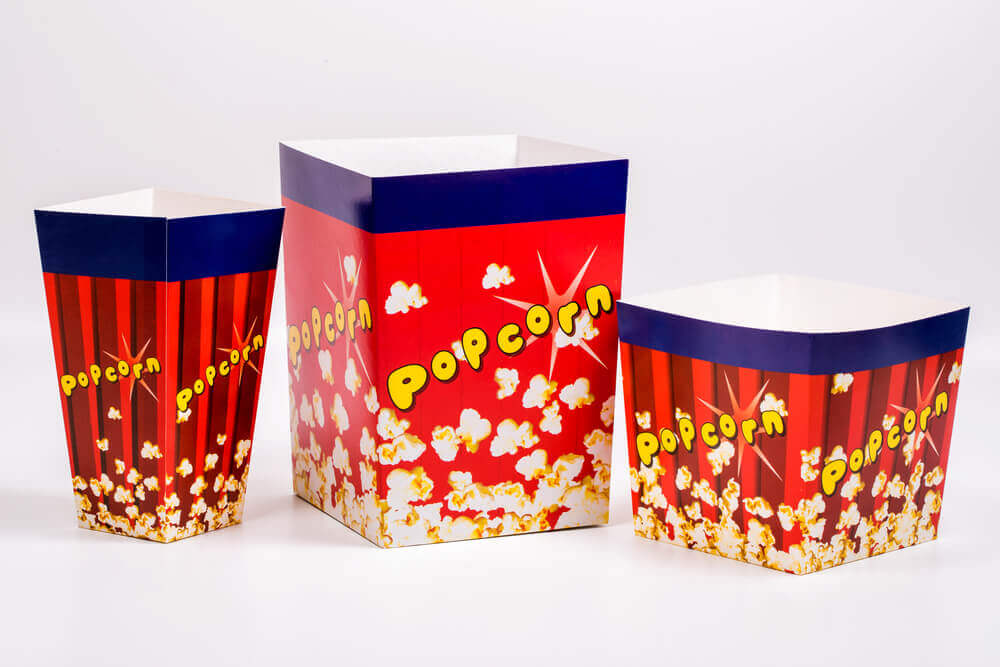 400 g / m2 cardboard, square bottom, full color printing
Different sizes from 0.5 to 5 liters.
Our clients
Food packaging made from paper or cardboard is environment-friendly, safe, and hygienic. Paper and cardboard are "breathing" materials. They allow to keep food products fresh for long time without deterioration of their taste quality. Paper packaging is popular in fast food chains for packing of confectionery goods and frozen food products.
Appearance of food packaging
Paper packaging can be printed with any type of printing techniques. Packaging can bear a printed logo only. Such variant is relevant for cafes, restaurants, fast food chains, pizza delivery services. Or food packaging may be printed in full color, vibrant and rich, with detailed product information indicated on it: weight, ingredients, data on nutrition and energy value, shelf life and storage conditions, manufacturer data.
A paper box may have a window cut for the purpose of product demonstration. A carton can be laminated or coated with protective varnish to increase resistance to moisture and environmental effects.
Frequently asked Questions
☷ Is it possible to make packaging according to my example?
Yes, you can send a photo of the box you like or its original.
☷ Will I receive ready assembled boxes?
Depending on the design, the packaging can be sent to customers assembled or disassembled. For example, self-assembled boxes are shipped by default to the customer unassembled and are folded by the customer manually without glue. This is a convenient option, since even a large circulation of such boxes does not take up much space during storage. If you have no experience in folding such boxes, we will gladly send you a video instruction.
If you want to receive your boxes fully assembled - check this point with our manager.
☷ Can you make packaging for my product?
Yes. Development and production of individually tailored packaging is our specialization. You can give the dimensions of your product, but it is better to send the product itself live.
☷ What materials do you use to produce your packaging?
We work exclusively with high-quality materials and only with official suppliers of materials - cardboard, paper, paints, varnishes.
☷ I have a ready-made layout, will you check it before printing?
Yes of course. We will check your packaging or printing layout for technological correctness, but we are not responsible for low-resolution pictures, text content, loose fonts and typos in the layout you provided.

We can warn you about low resolution images or lack of proper margins in your layout. At your request, we can modify and correct your layout.