Printed Credit Card Packaging Boxes
ATTOLIS has been producing carton and cardboard packaging for more than 20 years. In packaging made by ATTOLIS are packed different products - utensils, jewelry, food products, textiles, technique appliances and plastic cards.
The site contains examples of products that ATTOLIS produces for customers.
All products are made to order.
More examples
Hide
We produce premium packaging for plastic cards for banks using in manufacturing process high-quality materials and wide range of our postpress processing opportunities - hot stamping embossing, foil stamping, application of glossy and matte UV coating, coating with Soft Touch varnish.
Also ATTOLIS manufactures common packaging made of cardboard with full-color printing - cardboard boxes, cardboard envelopes and postcards, booklets in which the card is attached with drop of silicone glue.
All the packaging in ATTOLIS is produced under the order, taking into account ideas and demands of the customers.
With ATTOLIS you can get unique packaging for your gift cards certificates, customer's bank cards, bonus cards.
Among our clients: PrivatBank, Monobank, A-Bank and many others.
Our clients
Types of packaging for plastic cards
Unique custom packaging is an effective marketing part, which can increase the value of it's content and make smart appearance of the product.
ATTOLIS produces different packaging for bank credit cards, discount cards, bonus cards and gift cards:
Boxes for plastic cards made of coated cardboard with full-color printing;
Envelope. Envelopes for gift cards made from premium cardboard or from coated cardboard with full color printing. We can produce packaging with various types of decorative processing – envelopes with UV coating, with embossing, with matte Soft Touch finish. Personalization elements - unique barcodes and QR codes can be printed on the envelopes.
Premium card packaging made from the design cardboard with decorative finishing (UV varnish, hot stamping embossing and foil stamping, silk screen printing with matt colors and metallized paints);
Packaging-book made from binder's board. For bindings is used large selection of beautiful design paper, in such packaging a plastic card is inserted in special cell;
Paper envelopes for cards. In ATTOLIS there is installed equipment for production of paper envelopes, which allows us to output big quantities of paper envelopes in short terms.
Booklets of any size. Discount, bonus or gift cards can be attached into the booklet with a drop of silicone glue.
Postcards made from the premium design cardboard with silk screen printing. If you choose not white colourful cardboard for your postcards, and your logo is not monochrome black, it is recommended to give preference to silk screen printing method, it will save authenticity of logo colors on cardboard of any shade.
Additionally to the packaging you may need to order inserts - informational and advertising brochures, booklets, flyers, stickers. ATTOLIS can print and insert all the needed additions.
We produce high-quality customized packaging
In ATTOLIS there is large modern equipment fleet, in producing packaging for cards we use all kinds of modern printing technologies:
Types of printing on boxes
Digital printing
Silk-screen
Offset printing
Embossing
UV Coating
Digital printing


Digital printing - transferring an image onto cardboard or paper using a laser, inkjet printer or printing machine. Application of paint directly to the sheet does not require longtime and expensive preparation. It is the ideal solution when for producing small runs of compact packaging boxes under tight deadlines.

ATTOLIS offers digital full color printing for branding cardboard boxes for honey jars, sweets, cosmetics, soaps and other products of suitable size. We produce such packaging in small and medium runs.

Pros:
Low cost for small runs. Several hundred boxes are much cheaper to print digitally than with offset method.
Short lead time. As there is no longtime preparatory work, using digital printing boxes are made very quickly.
Ability to change color, pattern, correct errors and make other adjustments during print run

Minuses:
Limits on the size of the package
The cost of each item does not reduce when printing large runs
Silk-screen printing


Silk screen printing is a modern type of screen printing, which is performed using a special mesh. The thick paint under the pressure of the squeegee hits the surface through the holes of the mesh, on which the stencil of the future image is created. The print is dried with hot air and special lamps.

Today the technology is widely used in the printing industry. ATTOLIS company performs silk-screen printing on paper, cardboard, corrugated board, plastic and other materials.

Features


The screen-printing method is used for branding the packaging, applying prints, text, illustrations. This method allows you to obtain clear, high-quality printing keeping the original color of the image at the background of any color. So the brand logo printed on the cardboard packaging will remain in the corporate color, no matter what shade the background of the packaging is. Silk screen allows you to apply matte, glossy, complete or spot UV varnish.

You can create an image using one color or several different colors, you can make a metallized or fluorescent image. For each color, its own stencil grid is created, the cost of silk-screen printing depends on the number of printing colors.

Offset printing


Offset printing is a technology that involves applying an image to paper or cardboard by transferring it through special rollers. This method requires significant time and money, but the image quality is high.

Today this technology is widely used in printing houses. ATTOLIS offers qualitative offset printing on boxes and packaging. Our experts will impliment any ideas of the client, make an unusual design for an individual order.

We use offset printing to produce full color, durable corrugated boxes. Printing is not applied directly to corrugated cardboard, but to cardboard sheets. We use the laminating method on our special equipment - we glue cardboard with full-color offset printing to corrugated cardboard, cut it to shape, fold ready-made durable colorful boxes.

Features


Offset printing guarantees accurate color reproduction, contrasts and smooth color transitions.

Pros:
High image quality, use of CMYK colors and pantones
Wide possibilities in the choice of paper
Wide range of finishing options
Significant reduction in the cost of each unit when ordering a large circulation
Fast implementation of large runs

Minuses:
Time-consuming and complex prepress, which makes it unprofitable to order small print runs
Embossing


Embossing is a creation of a sculptured image on a printed material by compressing it between cliches. Cliches for embossing are made according to the layout, in cliches the necessary shapes are cut out, they will leave an impress on paper or cardboard. The relief of the image can be eminent on the front side (embossing), or depressed (debossing).

ATTOLIS has all the necessary equipment for foil stamping and hot stamping, which allows us to implement different customer ideas in packaging decoration.

When processing foil stamping, a foil is laid and pressed between the metal plate and the material, a metallized imprint remains on the material.

For stamping we can use foil:
metallized;
matte;
holographic.
Dyed embossing, i.e. embossing on print, is often used for the production of branded packaging. Additionally, selective UV varnish can be used, then the print will be even more voluminous.

Features


For embossing, it is necessary to order the production of metal forms (cliches), their cost is calculated depending on the area of ​​the embossed elements.

For one relief print 2 cliches are needed, which will compress the material from the front and back sides.

The demand for this type of printing services is constantly growing in the field of business and advertising. Often in the manufacture of packaging and printing, printing is not used at all, all images and texts are applied by hot stamping and foil stamping.

In addition to relief stamping and foil stamping, we also perform Silk Foil stamping without clichés.

Silk Foil allows us to get an eminent image in the color of bronze, gold, silver, which is not depressed on the back.

UV Coating


UV coating technology gives printed products a gloss and matte finish without lamination. Matte or glossy varnish can be applied to the entire surface of the product or selectively to make certain elements more noticeable.

In case of packaging branding by application of spot UV coating, the logo is applied with a transparent ultraviolet material, which makes it possible to highlight the brand name, gives it an overflow effect, but does not make it too catchy.

To obtain a more colorful image, the logo can be printed by offset or digital printing with further UV varnish coating. An embossed, tactilely perceptible picture is provided by applying a "high" UV varnish.

UV varnish can highlight not only the logo, but also other elements: illustrations, lines, company name.

Adding glitter to the varnish allows to obtain a glitter material that will provide shine and attractiveness to the packaging design elements.

Features


Ultraviolet varnish has a high gloss, dries quickly, and is resistant to chemical and physical stress.

Also UV-varnish can be matte - Soft Touch coating gives velvetiness to surface of printed products. The application of a special varnish provides:
visual appeal of the product;
longer service life of the packaging;
protection of the box from dirt and moisture.
The use of UV varnish allows to create truly exclusive products.
Stages of creating custom packages for plastic cards
If you have decided to order packaging for cards made in your company's style, with your logo, ATTOLIS can become a reliable partner for you, as we are professionals in branded customized packaging.

Collection of information
for product creation

Creation of customized prototype

Confirmation of cost, timing, layouts

Production start-up
Our production is a place where bespoke packaging is produced
Founded in 2000, ATTOLIS was originally engaged in the production of packaging from cardboard and corrugated cardboard.
The company's machine fleet has been replenished since 2009, in parallel with the improvement of packaging production, the company develops printin and post-printing processing areas.
From 2012 to 2016, experience was actively gained, new lines were installed, including the production of envelopes, powerful die-cutting machines, folding and folding-gluing equipment were installed. The equipment fleet has been expanded with machines for applying personalization to printed products - barcodes, addresses, individual numbers, and personal appeals.
Today, our production site has modern high-power equipment that allows you to produce high-quality packaging in any print runs, print advertising and commodity printing
Our preferences

Customized

service

20 years of experience

in packaging creation

1000+

Satisfied customers

Full cycle

production
More examples of our work
PrivatBank - development of packaging for elite card Lady Platinum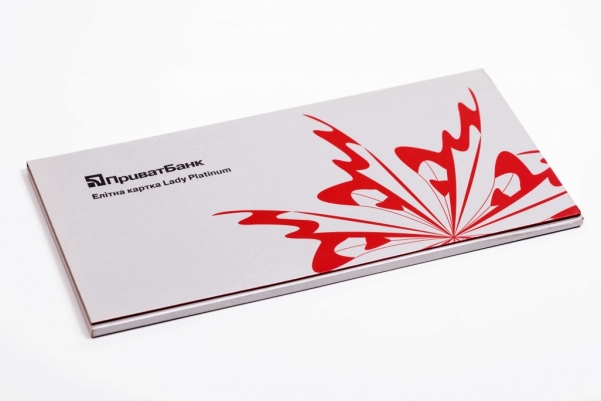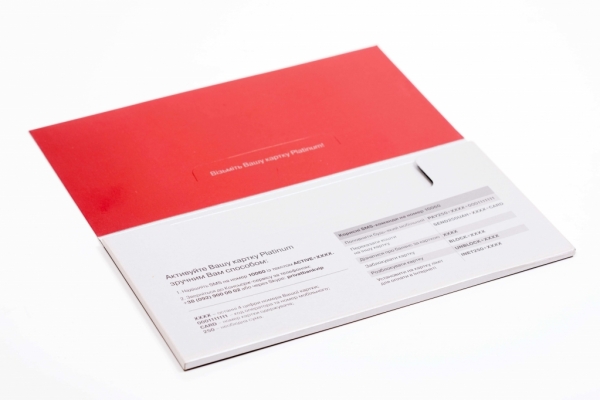 The envelope for credit card made from premium cardboard with offset and silk screen printing, completed with informational brochure.
Size of folded envelope: 230 x 115 x 5 mm.
A-Bank - production of envelopes for bank cards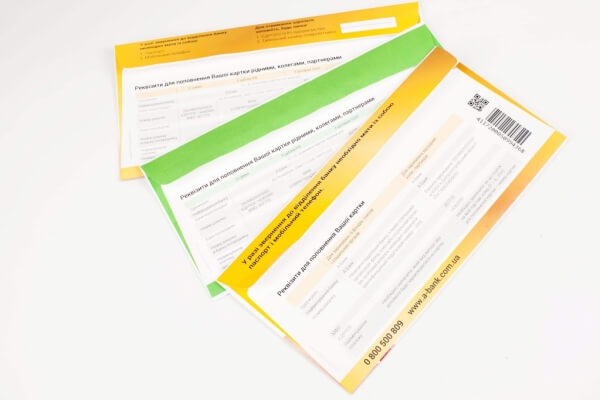 Envelopes for cards made from coated paper with full-color printing, with additional personalization printing - unique barcodes and QR codes on each envelope, completed with informational leaflet.
Size of folded envelope: 220 x 110 mm.
A-Bank - development of packaging for cards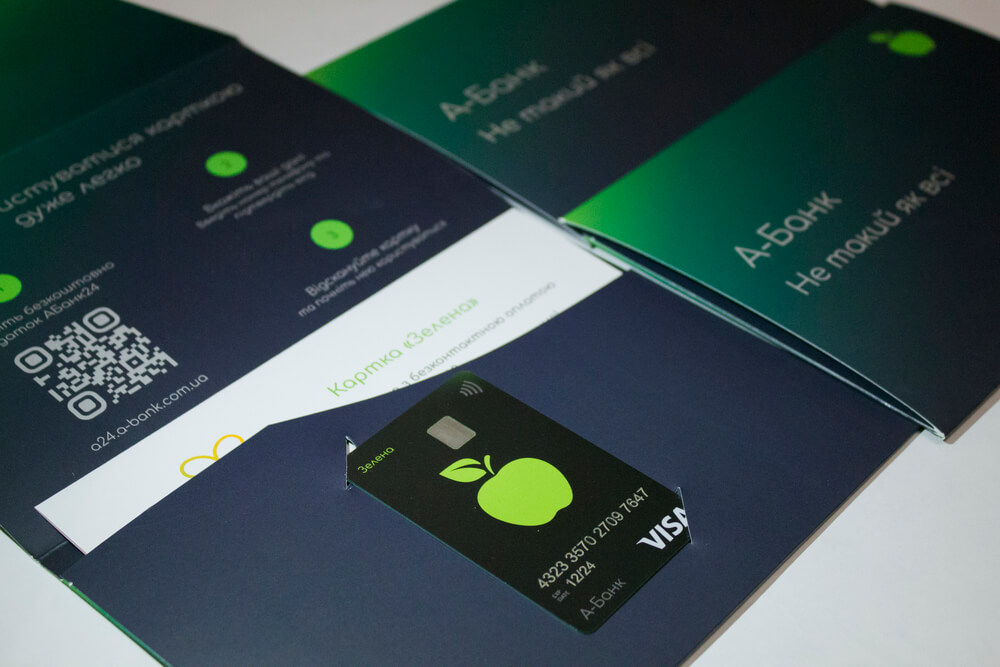 Envelopes for plastic cards made from coated cardboard, application of UV-varnish on the letters on the front side, completed with informational flyers.
Size of folded envelope: 195 x 140 mm.
KSM Clinic-development of packaging for customer's cards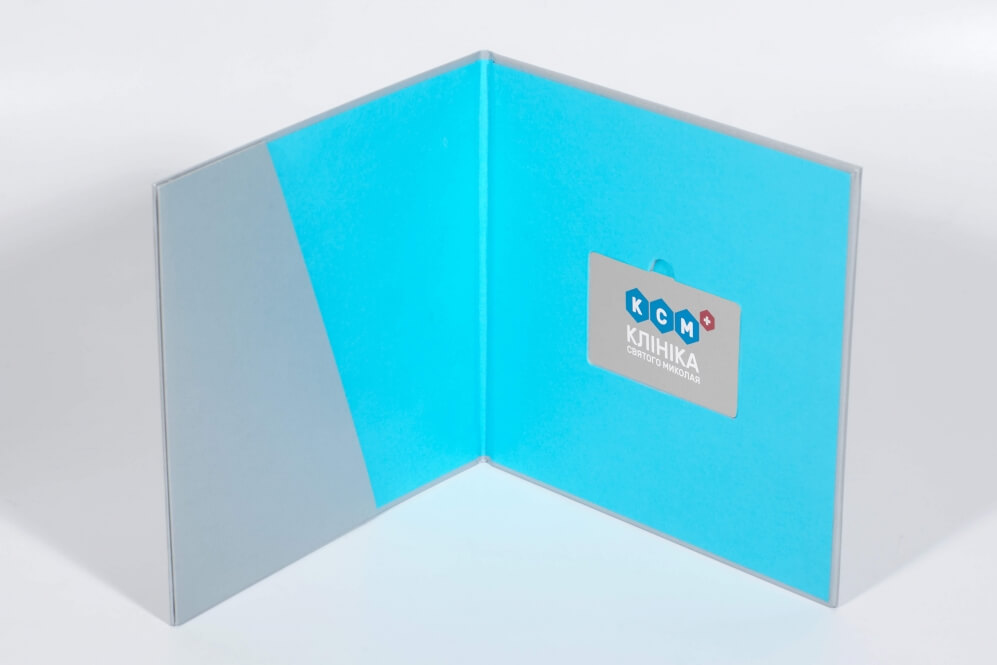 Packaging made from the binder's board with silk screen printing and selective UV-coating on the front side, inside there is a pocket for advertising and informational flyers. The card is inserted in the cell.
Size of folded package: 200 x 200 mm.
Jumper - booklet with client's card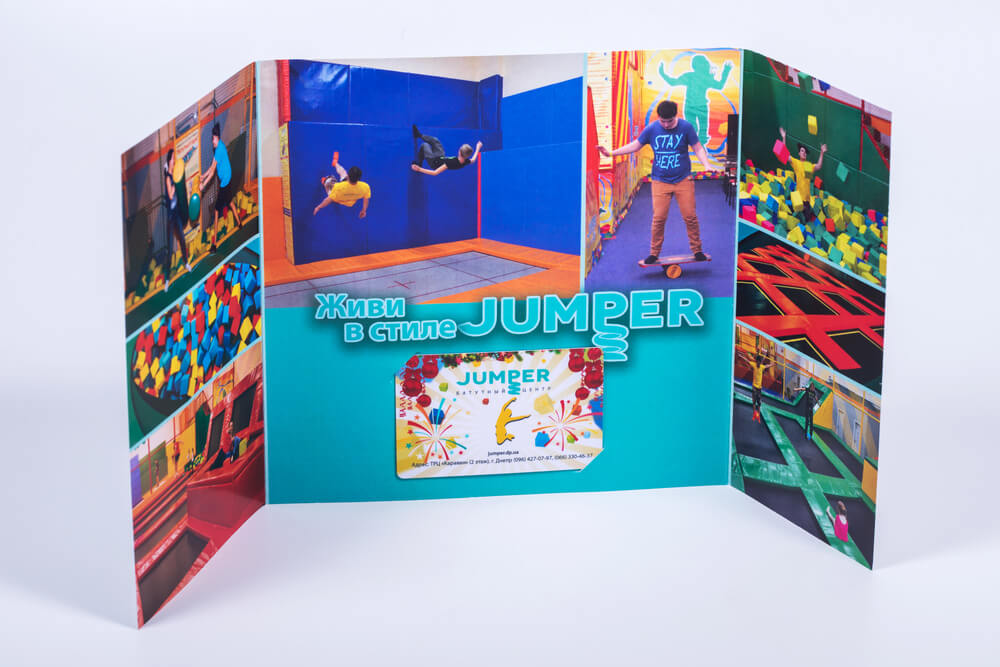 Booklet made from coated cardboard with full-color printing with two folds. Card is inserted in cut slots.
Size of folded booklet: 190 x 190 mm.
HUMAN - booklet for cards. LAKE PARK - greeting cards for client's plastic cards.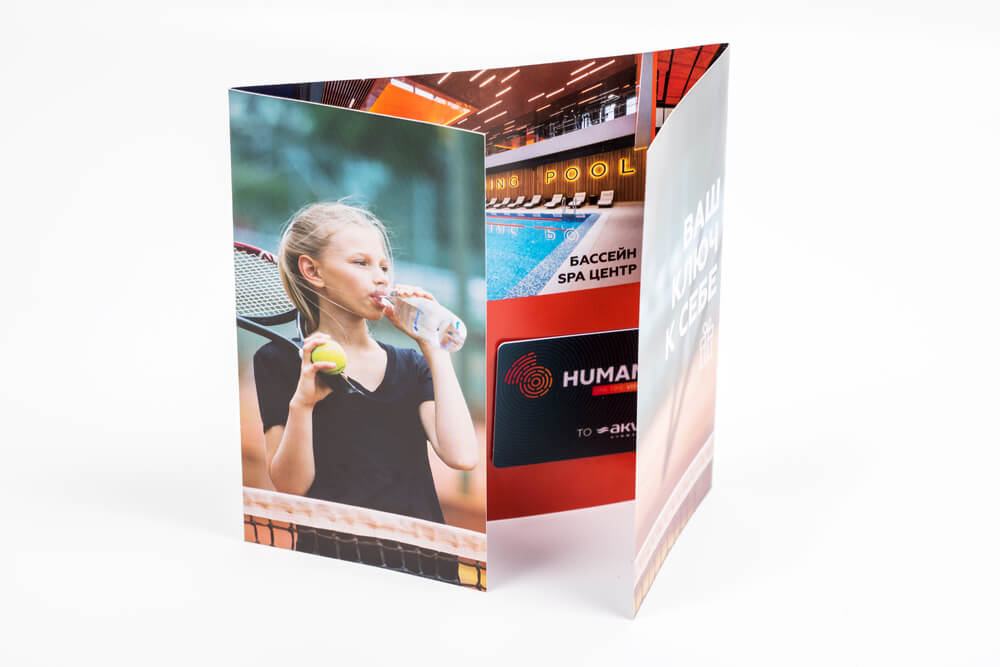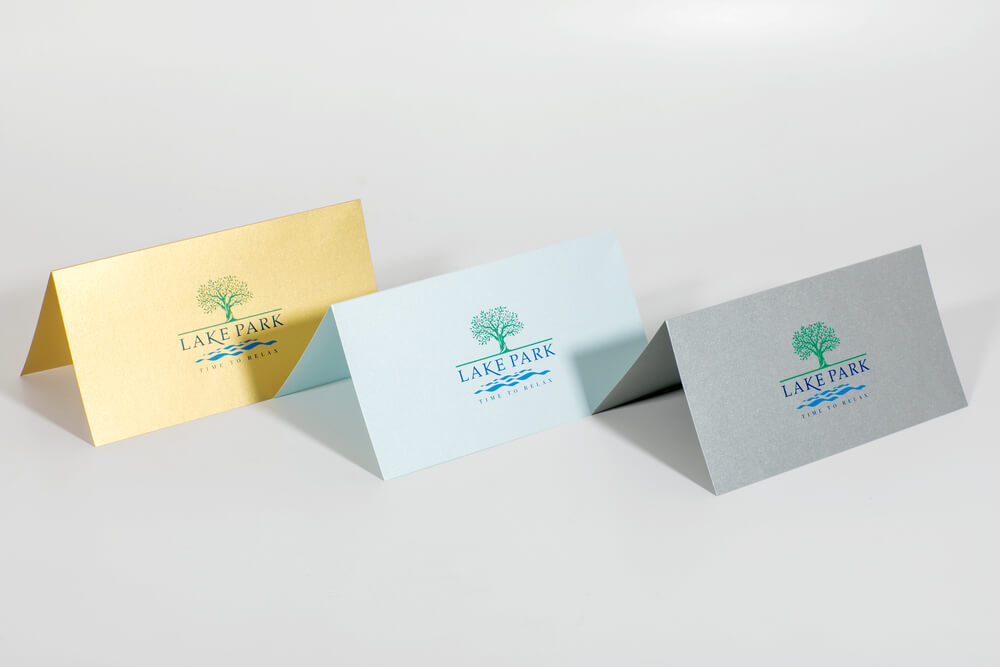 Booklet from coated cardboard with full-color printing with two folds. A card is attached with a drop of silicone glue. Size of folded booklet: 190 x 190 mm.
Postcards made from metallic premium cardboard with silk screen printing of the logo. The card is inserted in the cut slots. Size of folded postcards: 100 x 200 mm.
Frequently asked Questions
Where is the packaging manufactured?
The production and head office of ATTOLIS are located in Dnipro at the address: st. Lesoparkovaya 1.
Our production facilities are located here. Our production site includes a prepress workshop; pressroom; workshop for stamping, lamination and UV varnish application; post-printing workshop; workshop for work with corrugated materials; warehouses.
How much do custom boxes cost, can I get a price list?
We do not have a single price list for boxes, since we make packaging individually to order, of various designs and using different processing techniques.
Is it possible to get a trial sample of packaging before ordering a print run?
Yes. We will develop a packaging design for your product, make a trial sample so that you can make sure that the design is working and that the size of the package matches the size of your product.
How much does it cost to make a trial sample?
The cost of manufacturing a test sample is calculated individually and depends on its size, design and materials used.
Does the price change depending on the number of print colors?
Can you help make a mockup?
Yes. The cost of developing a layout is calculated after receiving the design specification from the customer.
Is it possible to make packaging according to my example?
Yes, you can send a photo of the box you like or its original.